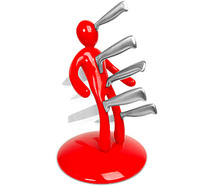 I never realised how prevalent domestic violence against men is.
We all know stories of male-initiated violence against women, perhaps we even know the perpetrators or victims themselves, but violence against men? Being beaten up by your girlfriend or wife is certainly not something that the average Aussie bloke would own up to, I would have thought…

A discussion this morning on SAFM's breakfast show opened my eyes. Last week on-air personality Amber Petty (Princess Mary's best friend – true!) announced in her weekly contribution for our city's paper, The Advertiser, that she had been the victim of domestic violence and had stayed in that relationship for a while. She gave the reasons she stayed, which revolved around attempting to help heal the man and his inner pain and outer rage. It didn't work out, the beatings continued and so she eventually left him.
What surprised Amber and the rest of the SAFM breakfast team was the number of emails she received from men who reported that they too were victims of domestic violence, including rape.
This morning the phone-in part of the show recounted story after story of men who had been abused by their partners, and one woman who had formerly been an abuser herself.
As with male-to-female violence, alcohol seems to figure large in the stories — a fuel that combusts easily when inserted in excessive quantities into a hot-tempered protagonist. So too does mental health (or ill-health): bi-polar disorders reportedly don't mix well with alcohol either, creating a much shorter fuse and a far bigger 'bang for your buck'.
But my eyes were opened when one male caller recounted his experience of being raped. He was fast asleep, recovering from back injuries that had him in a back slab. He was woken at 3am by a banging at his bedroom window. A very drunk woman was demanding to be let in (the caller never said whether the woman was his romantic/sexual partner at the time or not).
He let her in, wherein she repeatedly pushed him towards his bedroom. He was recovering from serious injuries and even though he was 6'4" tall and 110kg he was physically unable, mentally unprepared and morally unwilling to push her back. Despite him saying 'No' repeatedly, she went ahead with her intentions.
She pushed him down on the bed and 'had her way' on top of him, his underwear still on him. Satisfied, she got up and left.
He called the police and the forensic team came round to take swabs and, I guess, do what rape teams do. They asked if he had a photo of her, which he did. They saw a beautiful woman and told him to stop wasting their time, it couldn't have been rape as she was far too good looking and he must have enjoyed it.
I have no doubt that in some parts of the world this caller's story would be taken more seriously, but here in 'blokey' Australia the police's reaction was totally unsurprising. A 'real man' (so our culture says) could never be raped, as all men want sex all the time, in whatever form it comes.
But there is a real 'double standard' here, plainly visible in how the media, the police, the legal system and the greater culture treat victims of violence, including the violence of rape.
Hear the word 'rape' and the very first scenario that pops into your mind is the violent male raping a female.
Hear the phrase 'domestic violence' and you (and I) no doubt instantly think of some male bastard taking to a woman with his fists or some hard and/or sharp object.
But then hear or read that the victim was male, the perpetrator female, and our brains don't quite know what to do with that information. It is 'out of the ordinary', unprepared-for, and so our brains start free-wheeling while we try and figure out what our emotional response should be.
A quick search on Google comes up with surprising results:
Sydney Morning Herald

Jordan Baker Chief Police Reporter
February 23, 2008

THE number of women accused of violence against partners has risen by almost 25 per cent in five years, and domestic violence workers blame the rise on police mistakenly arresting victims for trying to defend themselves.

In the 12 months to September 2003 police recorded 4918 women as persons of interest for perpetrating domestic violence. By 2006-07 that had risen to 6056, figures from the Bureau of Crime Statistics and Research show.

Of the women arrested for domestic violence-related assault in the five years to last September only 32 per cent of the cases reached court, compared with 56 per cent of cases involving men, statistics show.

The bureau's director, Don Weatherburn, said the increase was likely to have been driven by more than one factor. Others could include an increase in binge drinking, or more men who were willing to admit they are victims.

"It's possible that people are becoming less tolerant of violence by females than they used to be," he said.
Male abuse is not a laughing matter

Canberra Times – Monday, 27th October 2003

ADMIT IT. When you heard that Liza Minnelli had been accused by her husband, David Gest, of beating him up, you laughed.
He says the Cabaret star beat him in the head so hard she caused brain damage.

Even as I read this, I smirked.

When I reached the passage explaining that he now has to take 11 prescription medicines to deal with the pain, and that he has developed a phobia of loud noises, I – far too late – stopped chuckling.

Domestic violence targeted at men is one of our biggest taboos.
When it is forced into the public gaze, we react in a way that shames us.

In [British TV soap opera] EastEnders, Pauline Fowler reacted to the news that her husband was having an affair by beating him over the head with a frying pan.

The viewers cheered.

This is not a trivial issue that is confined to the more freakish Beverly Hills mansions or soapy TV dramas.

A BBC poll has found that 18 per cent of British men admit to being victims of domestic violence, compared with 13 per cent of women.

These figures seem improbably high, but even the much lower rate found by the British Crime Survey of 2001-2 records that one in five of all incidents of domestic violence is committed against a man.
Again, from the MensRights.com.au site:
Since 1975, approximately 100 both-sex prevalence studies, mainly in Britain and North America have shown that physical domestic violence rates are much more symmetrical between the sexes than women's advocates suggest. These studies have ranged from random nation-wide surveys of many thousands of participants to smaller regional surveys, and included national crime surveys.

Case study interview data on men victims in Britain and in Canada, reveal remarkable similarities of physical do
mestic violence experiences between men in these two societies, and in those in my study that I will discuss in a second.

Two recent studies in Australia have confirmed the both-sex prevalence data I have just mentioned. Dr Sotirios Sarantakos has recently completed in-depth interviews of families with histories of violence. A major aim of the Sarantakos study was to investigate the validity of criticisms that studies showing symmetrical rates of intra-partner violence are relatively meaningless because they do not consider the contexts within which the violence occurred. The Sarantakos findings confirmed these studies showing symmetry between couples and also that self-defence as an argument for all women's violence could not be sustained.

A recent representative survey by Dr Bruce Headey and Dr Dorothy Scott from the University of Melbourne, and Dr David de Vaus from Latrobe University, on approximately 800 men and 800 women, has again confirmed the accuracy of claims from other both-sex surveys that rates of violence between heterosexual couples are approximately equal, but interestingly, that men appeared to suffer more physical injuries.
A series of articles and papers by Dr Charles E. Corry counter-attacks some typical myths and stereotypes:
"As best we can tell domestic violence is quite a rare crime and the level of danger for the average person is extremely low. For example, citizens are greater than twenty times more likely to die from the flu than from an act of domestic violence."

"Mechem and others (1999) summarized in the following abstract:

""Objective: To establish the prevalence of domestic violence committed by women against male patients presenting to an urban ED [Emergency Department] for any reason.

Methods: This was a prospective survey in which male patients of legal age presenting to the ED over a 13-week period were interviewed. Patients answered a series of six questions adapted from the George Washington University Universal Violence Prevention Screening Protocol. Patients who could not speak English, those refusing to participate, those unable to give informed consent, and those meeting regional criteria for major trauma were excluded.

Results: Of 866 male patients interviewed, 109 (12.6%) had been the victims of domestic violence committed by a female intimate partner within the preceding year. Victims were more likely to be younger, single, African American, and uninsured. The most common forms of assault were slapping, grabbing, and shoving (60.6% of victims). These were followed by choking, kicking, biting, and punching (48.6%), or throwing an object at the victim (46.8%). Thirty-seven percent of cases involved a weapon. Seven percent of victims described being forced to have sex. Nineteen percent of victims contacted the police; 14% required medical attention; 11% pressed charges or sought a restraining order; and 6% pursued follow-up counseling.

Conclusions: Almost 13% of men in this sample population had been victims of domestic violence committed by a female intimate partner within the previous year. Further attention to the recognition and management of domestic violence committed by women against men may be warranted.""

"Or consider the following from the "Letters" section, Time Magazine, January 11, 1988, p. 12, referring to article in "Behavior" section, Time, December 21, 1987.

Dear Editor: Your article [Time] on domestic violence states that women are unlikely to inflict much damage on men because wives are generally smaller. Yet in my experience as an emergency-room physician, I treated more men than women for such injuries…. I have seen men cut with an ax, scalded with hot water, smashed with a fireplace poker, and knocked out by a brick, not to mention suffering the common gunshot wound. One incident involved a woman who walked into the hospital with a broken nose after being punched by her husband during an argument. We set the nasal bones and discharged her. Two hours later, her husband was wheeled in. He was admitted with a fractured spine. As soon as she got home, she had grabbed him by the lapels and thrown him against the kitchen stove."
Velimir Svoren, MD; Chatsworth, GA"

"The most widely reported figures, and probably the most reliable, on domestic violence and abuse are based on social studies by Straus and others supported by the National Institute of Mental Health. They report that roughly 6 million women a year are victims of some level of domestic violence in the United States. Of these 6 million women, 1.8 million are seriously assaulted every year. These estimates are based on surveys made in 1975, 1985, and 1992 (see Table 7).
[table 7 is reproduced below - Lee]

However, it is widely ignored that the same studies consistently found that an equal number of men were experiencing domestic violence and an even greater number, 2.2 million men per year, are being seriously assaulted by their female partners.

Note, however, that only a small fraction of these men and women think of the events social scientists label family, or domestic violence as a crime.

As of 2002 there have been over one-hundred-and-thirty scientific studies (Straus, 1999) supporting the pioneering work of Straus, Gelles, and Steinmetz. Their results are among the most replicated of all studies in the social sciences. See, for example, the bibliography compiled by Fiebert.

"All available evidence, e.g., Table 7 based on the data of Straus and Gelles (1986, p. 470) and Straus and Kantor (1994), shows a clear trend toward decreasing levels of interpersonal violence. However, the decrease of male on female violence has been more marked and continuous than the drop in female on male assaults and killings. Also, in some categories female on male aggression may actually be increasing.

---

Table 7: Rate of violence per 1,000 couples stated as a percentage for the years indicated from social studies .

Husband against wife

1975

1985

1992

As repor
ted by (for 1992 data)

Overall violence
12.1%
11.3%
11.5%
8.3%
wife
husband
Severe violence
3.8%
3.0%
2.3%
1.7%
wife
husband

Wife against husband

1975

1985

1992

As reported by (for 1992 data)

Overall violence
11.6%
12.1%
9.9%
9.1%
wife
husband
Severe violence
4.6%
4.4%
5.8%
3.3%
wife
husband

Severe violence: To kick, bite, or hit with a fist; burn; scald; to hit or try to hit with an object; to beat up the other; to threaten with a knife, gun, or other deadly weapon; to use a knife, gun, or other deadly weapon.
Aussies Greg Andresen and Michael Woods report some shocking statistics:
The most recent comprehensive survey of violence in Australia revealed that, in the past 12 months:

808,300 men were victims of violence overall (almost two thirds of all victims)
485,400 men were victims of physical assault (two thirds of all victims)
392,800 men were victims of physical threat (71 per cent of all victims)
42,300 men were victims of sexual assault (almost one third of all victims)
27,900 men were victims of violence at the hands of their current or previous partner (one in five victims overall, however other studies have found that up to one in three such victims are male)
864,300 men were victims of harassment (over one-third of all victims)
110,700 men were victims of stalking (over one-third of all victims)
the risk of physical violence in the workplace was about equal for men and women
men were almost as likely as women to suffer physical violence within the home (half from females, half from males)
the rate of physical assault in public places was much higher for men than women
men and women experienced physical violence from perpetrators who were known to them at exactly the same rate.
Mark has some interesting views on domestic violence against men over on his site, including some videos, and YouTube has some eye-opening videos as well (look in the 'Related Videos' section).
Even the Australian Government is not playing fair; they 'see' 'domestic violence' as a male-to-female event or series of events.
And here's another brilliant example of how society says it's okay for women to beat men up, but a crime if men beat women:
SUPERDRUG WITHDRAW PUNCHBAG ENCOURAGING DOMESTIC VIOLENCE AGAINST MEN

Following a complaint from The ManKind Initiative (link), Superdrug have withdrawn from their stores an inflatable punch-bag that encouraged women to hit men. They have also pledged to donate any profits to the charity that helps male domestic violence victims.

The box and the punch bag encouraged the owner to insert a photograph of a man where the face is. In addition, the box and punch bag has an arrow pointing to the head stating 'hit him here' and an arrow pointing to the groin stating 'kick him here'.

Mark Brooks, Chairman of The ManKind Initiative, said: "As a charity that receives hundreds of calls a year from distressed men suffering from domestic violence, it is disgraceful that a national retailer like Superdrug should be openly selling products encouraging such acts. We are demanding that they remove these offensive 'Christmas gifts' immediately.

"The fact that Superdrug rightly does not sell a similar product encouraging domestic violence against women or violence against animals suggests violence against a man is more acceptable. This is characteristic of the brick wall that male victims face in terms of lack of support, understanding and acceptance."
Once again, Superdrug with a classic double standard:
THE DISGRACE OF THE ALL MEN ARE BASTARDS KNIFEBLOCK

Following on from the Superdrug punchbag and MFI stories (link), the site has been alerted to this sick product from the 'I Want One of Those' web-site (link). Entitled 'All Men Are Bastards Knifeblock', it is meant to be a joke product. It is no joke if you are man that has been stabbed by your female partner.

The site tries to justify its sale by passing off views from customers saying how it great it is.

It just shows how socially acceptable female violence on men is, whilst rightly male violence against female is not acceptable. Could you imagine the outcry if the roles were reversed on the knifeblock from the Fawcett Society, the Minister for Women etc? The double standard
s of the politically correct.
Amber and the team have opened my eyes to something scandalous: the double standards we as Australia (and 'the West'?) have between male and female violence, not just at the greater cultural level, but also when the issue is considered by the media, the police and state agencies, and the legal system.
A 'No' is a 'No' irrespective of whether you are male or female, and non-consensual sex is rape, no matter whether the rapist is a gorgeous looking woman or not. But how we treat those men courageous enough to report violence against them unfortunately shows just how far we have to go before we can call Australia a fair and just society.
—————————————————-
Currently listening to: Drive, The Cars