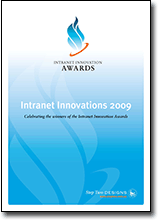 My good friend Alex Manchester over at intranet wizards StepTwo Designs has kindly let me see a copy of their latest report, showcasing the winners and runners up of their annual search for the brightest, boldest and best in all that is 'Intranet'.
This is the third year that they've run this contest and each year the intranets the judges have to decide upon get sharper, smarter and more user-friendly (i.e. these sites were probably not designed by your IT people with no input from you or any other communicator).
In addition, the winners are winners not because they have a 'you-bewt, all-singing, all-dancing' intranet with bells and whistles on it; they are winners because they showcase improvements in their value for the business in line with business goals.
By showcasing all of these stunning intranets, StepTwo hopes to improve everybody's intranet – because the bar has been raised. Amen to that!
Here's just some of the featured designs:
CRS Australia integrated their intranet with SAP to deliver a single interface for common tasks. This delivers the goal of the intranet as a true gateway, more than just a collection of links.
AEP, a US-based electric utility, created an online ideas system that has identified $8 million in savings, $2 million in the first month alone.
IDEO delivered an innovative, web 2.0 inspired intranet that connects people and projects.
A business unit within IBM developed a Firefox toolbar that helps staff uncover valuable content.
NYK, the global shipping company, uses a wiki-based news room to share industry updates.
Sabre uses their intranet to get staff questions answered within hours from across the globe.
COWI, an engineering consultancy, takes SharePoint team sites to the next level by aligning them completely with their project management methodology.
In Russia, ChTPZ integrates their intranet with seamless SMS capabilities.
Prophet developed a super-streamlined system for completing 360 degree evaluations, making it dramatically easier for all staff to use.
The 198-page report goes to great lengths to show you as clearly as possible WHY a particular intranet scored high enough to 'make the cut' – invaluable insights that make the report essential in your 'Convince the CEO' toolkit.
The report is one of those incredible resources that you will keep in your in-tray for years and flip through every time you want to find another way to make your intranet more useful for you and your company.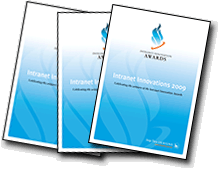 In fact, it's so damn useful I reckon you might as well stump up for all three reports – StepTwo give you a hefty 40% discount if you do, and these are reports that you will actually print out in colour, bind properly and refer to again and again! Truly!
This is the sort of report that 'works' for every type of manager:
the IT manager looking to integrate business processes into one location;
the Comms Manager looking to find better ways of reaching out to and hearing from employees;
the Knowledge Management manager looking to find quicker ways for staff to access that key chunk of data or subject matter expert.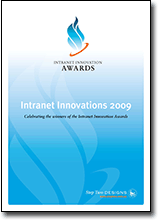 You can download 2009's Executive Summary, which includes full details on two of the case studies – Sabre and Initiative [4.3mb PDF – opens in new window].
Use this and the previous two reports to discover where intranets are innovating and to find ideas that can be implemented on your intranet. Good ideas never go out of style.
---