I'VE LONG been a fan of the freeware AudioShell as a wind0ws shell add-in, allowing you to add significantly more detail to your .mp3 and other types of audio files than the bog-standard Windows Explorer 'Properties' pop-up does.
My podcasting colleague Neville Hobson put me onto AudioShell waaaay back when, some time around 2005.
Here's an example of the level of detail you can edit in AudioShell: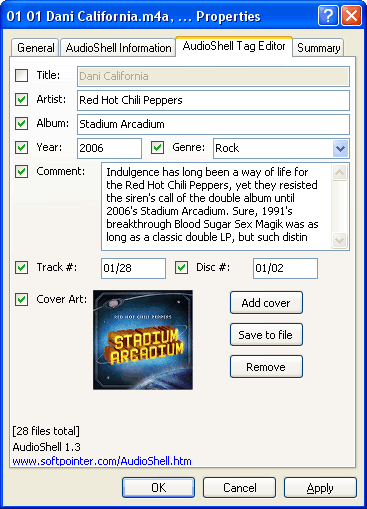 But if AudioShell has a downside, it is only two – it doesn't support Windows7 and it doesn't work on 64-bit systems.
Now that the pc world is moving to 64-bit you can imagine how miffed I was when I found that I couldn't get AudioShell to work.
BUT WAIT!
The same gentleman that created the wonderful AudioShell has now created the magnificent Tag&Rename, a much beefier product that *does* work with Win7 and 64-bit systems.
Tag&Rename is a music files tag editor that easily handles all popular digital audio formats. No matter what music compressor you prefer, you can keep your music collection organized with Tag&Rename.
Here's just one screenshot of what you can do in Tag&Rename: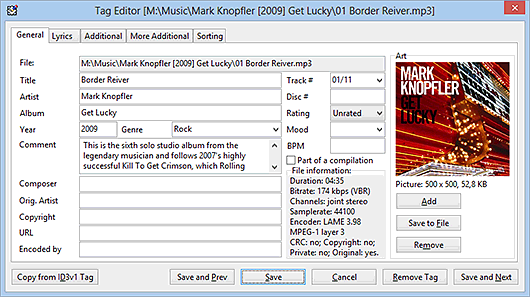 There's a whole page of screenshots to show you the power of this software.
If you are the occasional podcaster then perhaps the $29 asking price is not worth it for you, but if you are interested in adding cover art to your podcast, or bulk renaming files and folders, or making bulk comments on your audio files, then Tag&Rename is a must-have.
And I can tell you, it works like a charm. Go visit the page and find out for yourself what Tag&Rename can do.
---