Guest post by John Terra.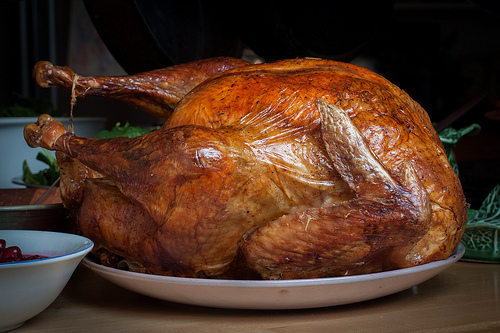 Repurposed content: the leftover turkey of effective SEO
Anyone who's even remotely an expert in Search Engine Optimization says the same thing: your content needs to be great! But creating quality content is time-consuming and is a drain on resources; necessary evils, sure, but still with a measure of pain. It's a shame that all of that effort goes into one media, specifically your web content, and then that's it.
That is unless, of course, you consider repurposing it. By adapting and using that content in different forms, you can leverage your investment and get more mileage out of that costly resource. Consider that content to be like a Thanksgiving turkey, in that after it's served its purpose as the main event, it lives on in different forms and continues to nourish and satisfy days after the holiday!
Here are some cool ways to leverage that content.
Tweet, Tweet!
Have you considered repurposing your post into tweets? If you think about it, just one tweet per paragraph and you're sure to get half-a-dozen tweets out of a single article. It's all a matter of distilling each paragraph into a 140 character recap. Take for example this piece, written by a brilliant author of the Internet age. Here's a few tweets you could distill from it, complete with hashtags:
"Try lying about your products now and see what happens. #bustedonline"
"Something written in the heat of anger will remain a part of the Internet forever.#jumpingthegun"
"Arguing with trolls online is a historical blunder like an Asian land war #inconceivabletrolls"
"Walk away from a flame war, let your reputation speak for you #notworththetrouble"
The Attack Of The Pod(cast) People!
Try turning your post into a podcast, or for that matter, take a podcast and transcribe it into a post! Here's a site that uses this technique.
Let's Make A Video!
If you're feeling a little ambitious and you have access to video cameras and editing skills, try turning that blog post into a video. For example, pastors often turn the written word into visuals, as seen in Ed Young Jr Ministries.
Stop The Presses!
This is reversing the process; taking a non-article piece and changing it into a smooth flowing online blog post or article. We're talking here about taking a particularly informative, relevant, and well-written press release, gutting out the press-related details, and using the main body as a blog entry. Perhaps it will need to be cleaned up a little to fit the blog's narrative tone and feel, but it sure beats creating a post from scratch.
Unleash the PDFizer!
Take those particularly good pages of web content, create PDFs out of them, and link to them so that visitors can access and download them for their own enjoyment. Granted, not everyone has access to PDFs (or likes them, for that matter), but it's still a viable way to get some more mileage out of those words.
You Got (E)Mail!
Finally, if your business routinely sends out emails to customers, then why not repurpose some of those better blog entries into a mass mailing? After all, it's a safe bet that not everyone on your email list managed to see the posts themselves. If they won't come to the blog, let the blog come to them!
These are just some ways to recycle those valuable words and keep them working for you a little longer.
Author byline: John Terra has been a freelance writer since 1985. He hopes this particular article will someday be repurposed into a puppet show opera featuring singing sock puppets.
---